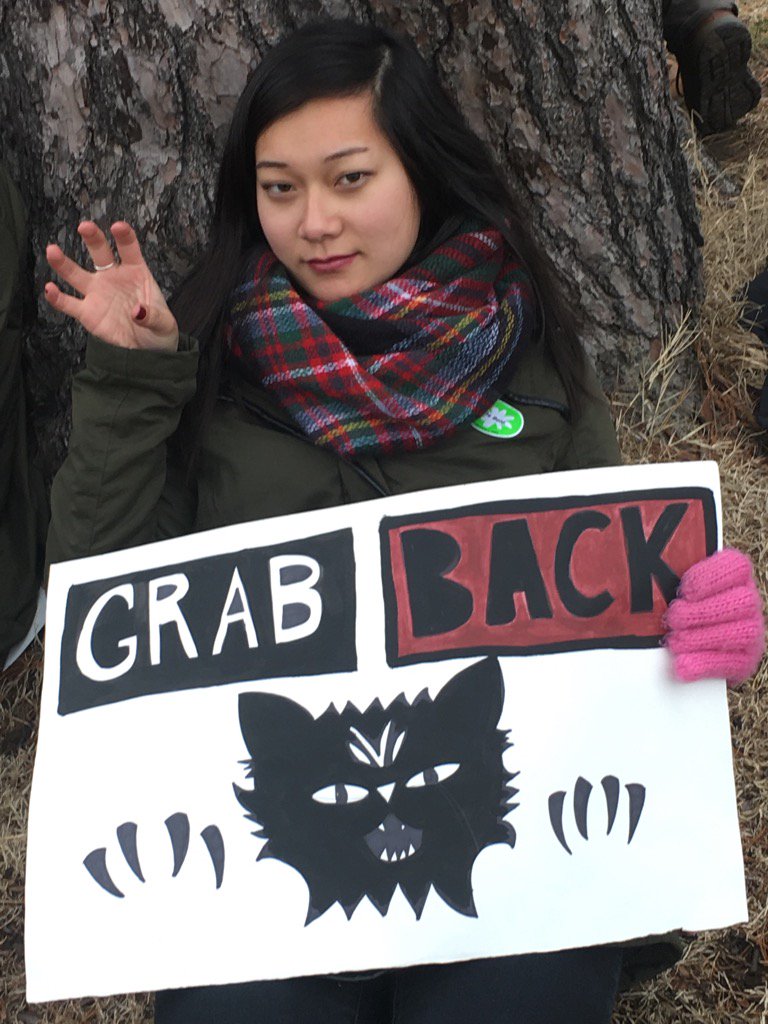 Yesterday, on the 21st of January, over one million people took to the streets of Downtown Washington DC to protest Donald Trump's first full day as President. Today, I was lucky enough to interview one of the protesters at the Washington Women's March, which attracted protesters from all over America, and indeed, the world.
Due to the cataclysmic shitstorm that 2016 was, there was much to protest than just the inauguration of Donald Trump alone. Issues such as women's rights, immigration reform, and LGBTQ rights, workers' issues, Black Lives Matter, and environmental issues were all raised at the march. It wasn't just in Washington DC where people raised their voices either, as several million attended one of the 673 marches worldwide. Closer to home, protests were carried out in both Dublin and Galway.
Morgan Duling, a good friend of mine, was at the historic march in Washington DC. I spoke with her to hear her thoughts on the event and to gain a better sense of what it was like to be among the million.
1) Coming all the way from Kentucky, how long did it take you to reach the protest?
It took me 9 hours to get there but we picked my sister up from an airport in Virginia so it took longer. The actual time it took to get to the March from our hotel, however, was also a lengthy amount of time. The Metro was crazy full! I was smooshed up against everyone beside me. Everyone was headed to the march in their pink cat hats holding up their posters.
2) What made you go all that way to attend?
I wanted to go because I had a feeling it was going to be big. And it was! We made a huge statement and, ultimately, a movement and I wanted to be a part of it.
It will go down in history as the biggest protest / march in the United States of America.
Of course, speaking out and up for yourself and your rights was an important reason to go, too.
3) What did you take away from your day at the march?
I learned that there are hundreds of thousands of people who support the same issues as I do and who believe in the same fundamental rights as I do. Hundreds of thousands of people who not only believe and support those things, but also believe and support each other. Not just in America. But across the world! We are not alone. And that is extremely powerful.
4) Is there any moment that will stay with you long after the march?
A particular moment that stood out to me was when Madonna spoke. She rallied us before we marched and she wasn't afraid to tell us EXACTLY how she felt and that she did not support our newest President of the United States. It takes so much courage to do that as a public figure. She's laying her career down on the line to speak out about her beliefs. It was inspiring.
5) Finally, your poster is very eye-catching. For those who mightn't understand, can you briefly explain it- and what inspired it?
My poster said "GRAB BACK" and it had a picture of a cat on it. I drew it because I thought it would be funny yet also make a statement. It was inspired in defiance of President Trump's public interview where he said he would just "grab [women] by the
" because, according to President Trump, that's what you can do when you're famous. My poster was a statement saying that we, not just women but anyone who believes in equal fundamental rights for all, are fighting back and will continue 
to fight back.